Playing at a Slow Pace Can Get in the Way of Fun Golf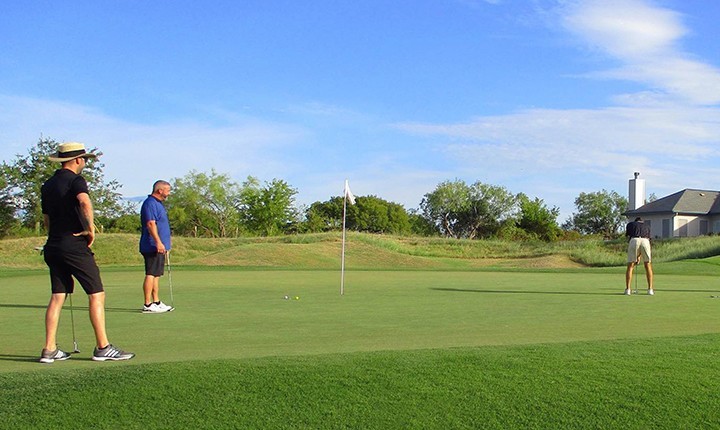 How to Play at a Good Pace
Golf is a great social opportunity! Getting paired with another player or group can be fun and a way to meet new people who also enjoy golf. Many times, we hear new golfers say they don't want to play with new people because they don't think they're good enough. Although it may feel this way if you are new to the game, the truth among golfers is that proficiency is not the most important thing that makes a round enjoyable or not. One major thing that usually gets in the way of having fun is playing slow. Golfers over time have become accustomed to playing 18 holes in 4 hours or less. It doesn't matter if you shoot 130, if you can do it in 4 hours or less, you'll find that you'll be enjoyable company for your fellow golfers. So how does someone new to the game play fast? Here are a few tips to incorporate into your time on the course to set a good pace.
1. Play ready golf and be ready to hit when it's your turn.
"Ready Golf" means that while other players are finding and going to their ball, you do the same. Sometimes that means grabbing a few clubs and leaving the golf car to go to your ball and get ready to hit the shot. If you're among a group that all want to play ready golf, then you don't have to wait for other players to hit, just get to your ball and play.
2. Eliminate or minimize practice swings.
Practice swings for the new player are overrated. Unless it's a shot that is less than a full swing and requires feel, practice swings are overrated. They can add significant time to playing a round. Keep your practice swing to no more than one. It will only take a few holes or balls on the practice tee to get comfortable with this and you will probably find that you hit better shots!
3. Be deliberate.
This includes knowing what is next from tee to green.When it's your turn to play a tee shot, it's probably not the best time to tell a story or joke. Your playing partners want to get onto the fairway or green. When you bring clubs to the green, position them so that when you walk off, you don't have to walk back across the green to pick them up. When you've completed a whole, make your way back to the cart and the next tee.Save marking the scorecard for the next tee when you're out of harm's way and starting the new hole.
4. Use inexpensive or experienced balls.
If you're new to the game of golf, don't buy expensive balls as you're likely to lose quite a few. You'll be less inclined to search too long for a ball. Throw another down and keep moving.
These four things can make a real difference in how quickly you can play a round of golf. If you follow these tips, you can sink a ball in those 18 holes in about 4 hours and be a golfer invited to play more than once!
Related Posts
By accepting you will be accessing a service provided by a third-party external to https://www.lozanogolfcenter.com/