Let us teach you! A $400 value for only $69!

At Lozano Golf Center, we've worked hard over the years to develop a revolutionary way to teach and grow this great game. We focus on three distinct groups, so we are able to tailor our instruction to fit into your schedule and needs.
Adults (18+ years old) who want to learn to play the game start with our Learn to Play program. Learn more below.
Kids 18 and under who desire to learn to play golf check out our Junior Academy.
Experienced golfers seeking to improve their game check out our Game Improvement program.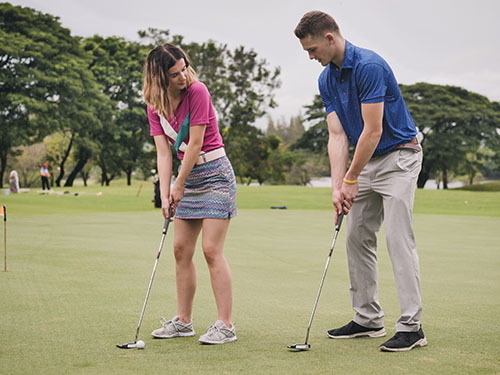 GET STARTED WITH OUR LEARN TO PLAY CLASSES
Our Learn to Play Golf classes are tailored for small groups and will teach you everything you need to know about stepping onto a golf course for the first time. The game of golf is a sport like no other – it's a game that you can play and enjoy with friends, family and business associates for a lifetime. From the thrill of hitting a long straight shot, to the excitement of sinking that birdie putt, golf is a sport that never fails to challenge and delight.
2023 Learn to Play Schedule
First Session:
Saturday Clinics - January 14 - February 11 - 10am-11am
Second Session:
Thursday Clinics - March 2 – March 30 – 5pm-6pm
Saturday Clinics - March 4 - April 1 – 10am-11am
Third Session:
Thursday Clinics - April 20 – May 18 – 5pm-6pm
Saturday Clinics - April 22 – May 20 – 10am-11am
Fourth Session:
Thursday Clinics - June 8 - July 6 – 5pm-6pm
Saturday Clinics - June 10 – July 8– 10am-11am
Fifth Session:
Thursday Clinics - July 27 – August 24 – 5pm-6pm
Saturday Clinics - July 29 – August 26 – 10am-11am
Sixth Session:
Thursday Clinics - September 14 – October 12 – 5pm-6pm
Saturday Clinics - September 16 – October 14 – 10am-11am
Session Info:
Group lessons are 1 hour in length
To register, contact the course at (361) 826-8016
PLAYING GOLF FOR THE FIRST TIME
When people think of golf, they think of sportsmanship, fair play and great camaraderie, so it is easy to see why golf attracts players from all walks of life and why it is often the game of choice for important social and business dealings. Now, are you someone who has freely said, "I don't know how to play golf, but I've always really wanted to." Well, you're in luck, these classes are for people just like you! Our classes are designed to teach this fantastic sport in a way that will be fun and more comfortable than you could ever imagine. With our style of instruction, we take people who have never held a golf club and teach them the skills to play, and to play well.
HOW MANY CLASSES ARE THERE?
In five, weekly one hour sessions with golf equipment provided (or you may bring your own), you'll enjoy a comprehensive education on the ins and outs of a successful golf outing. From making a tee time, what to do when you arrive at the course, what clubs to use, and even how to mark your ball when you successfully get to the green!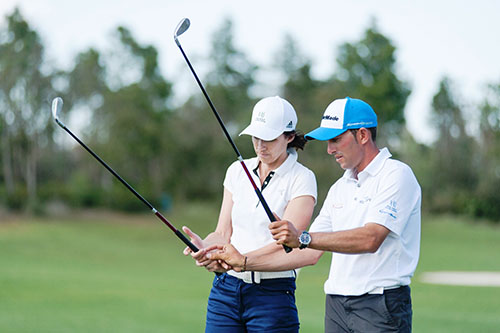 WHAT WILL I LEARN?
Our series of classes will guide you through a natural progression of learning the different swings, strokes, and shots. You will start with the basics of putting, move on to chipping, and use those skills to develop your full swing. Once you have mastered your swing mechanics, our team will walk you through the process of picking which clubs are best for each shot. This of course will include the breakdown of the different irons, wedges, and woods at your disposal. Believe us, successfully hitting a tee shot long and straight takes practice, but with a well taught fundamental swing from earlier classes, you'll be mastering that swing in no time!
JUDGEMENT FREE!
We pride ourselves on making sure that we foster a judgement-free zone during all our sessions, and we will prove that it's never too late to learn to play golf. Once you graduate from learn to play golf, we are confident that you'll be good enough and comfortable enough to make the golf course a place to look forward to. These classes are designed to be fun and offer a step-by-step approach to playing golf for the first time.
Meet Your Instructor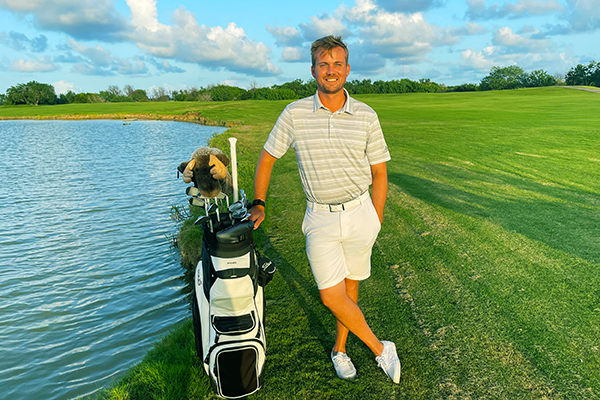 Jacob McCahon, Director of Better Golf, Lozano Golf Center and Oso Beach Golf Course
Jacob was born and raised in Washington State. His passion for golf first started at the age 5, when he watched Tiger Woods play in the 1996 US Amateur. At age 15, Jacob started to pursue his passion and worked at golf courses, while starting to find his own game.
Prior to moving to the Coastal Bend, Jacob was a Head Golf Professional in Arizona. His teaching experience includes private and group lessons, golf clinics, and junior summer camps. "My teaching philosophy is to keep golf simple," says Jacob.
Jacob joined the Foresight Golf family in 2021 and oversees all instruction for both Lozano and Oso Beach golf courses.